These pictures are from Thursday...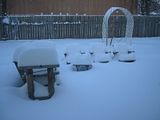 Okay. Not a Panoramic, I admit.. these are my buried deckchairs in the backyard. Notice: No footprints or bunny prints! My cats have cleaned the backyard of pawprint-leaving animals.
---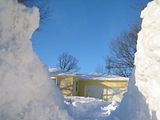 After shovelling through the snow plow drift, I turned around and took a picture of the house. Man, that was a lot of work!
---


This is my street (and the real size of the snowplow drift).
---


These are two panoramics made from a video taken from a moving bus. In the first one, i focused on the fence; the second one, i focused on the trees.
---