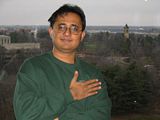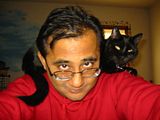 Greetings Friends and Family! Hope you're all having a great time.
It occurs to me its been a while since I sent out an update to many of you. Part of it is -- i'm lazy. The other part is -- since I discovered "blogging" as a way to let folks know what's going on in my life, it suddenly became easier. What I'm doing is -- writing this blog entry -- then printing it out as my christmas letter -- and then mailing it. And then emailing it, for those I don't have mailing addresses for. Yep! This means, if you visit this letter online at http://www.livejournal.com/users/sunnywiz/79190.html, then you can click on all these pictures and zoom in.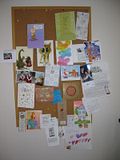 First, I want to say thanks to the people who DO take the time to send me Christmas Cards. I really really cherish them.. they go up on my "wall o stuff" (which i reset on my birthday, every year). As of Christmas Eve, this is what the wall looks like. (Note: if you go to the online version of this letter at this url: _include here_, you can click on the pictures and zoom in). Special notice to: Andrea and Emma and Alex, the babies on my wall. You are TOO CUTE. And Andrea made me a poster, that you can see at the bottom of the board there.

Quick summary of the year:
Jan 2004
Started off with a most awesome New Year's Eve & Day party. It was special for me.
Cafe Unite - Wizard of Oz celebration. I helped produce and direct a pretty fun show. We have video!
Discovered that my heartbeat is irregular. Turns out, its normal for me.
February
Lan Party!
I started blogging at Livejournal.
March
Got shipped off to Silicon Valley for work! (Capacity Testing at HP/Intel labs)
April
Did a second show: "Serenading the Sun". A much larger production. In my opinion, not quite as impromptu and awesome as the Oz show. Stopped doing shows for the year.
Saw STOMP! ... definitely a highlight. They're AWESOME.
May
Recorded a recital & made an Audio CD for my Piano friend Michio.
July
Unity Church bought a building! I got to help out a bit.
September
Started being a regular part of Youth Education at the church I attend. [link]
October
Started Monthly Movie Night tradition at my house, having acquired appropriate tools for large screen movie watching.
Also started Tae Kwon Do, and discovered that I love it.
Attended a most awesome Halloween Party.
November
Voted! My second ever chance to help influence who gets the presidency in the country I live in.
My 1-year-anniversary House Warming Party for my most excellent house.
Also, attended my first ever Martial Arts symposium.
December
My first every totally in public gig -- at the Mall. I don't think i'm going to do that again anytime soon.
I was able to start my vacation early this year -- Dec 11th, I think. I dont remember exactly.
Of course, i'm leaving out the umpteen different recovery-related events that I do.. and the many dinners that I've had people over.. and the many shows.. anyhoo. Its been a great year.
Workwise: All is well! I continue to work as a Software Engineer at UGS -- a job I've had for 4 years now or so. I work with a very good international team of people -- no finger pointing, no politics, just "what do we need to do now." I truly appreciate that. My boss and I figured out very good ways of communicating what I was working on, and there's something delicious about knowing that whatever work I did, I did the right work at the right time at all times. I look forward to at least several more years with this group of people, fingers crossed... [link to the product group i work in, click on "Teamcenter Community"]
Household news: Sam + Whiskey are still with me. They're, like, 8 years old now? Just starting to show signs of age. Whiskey has ended up as queen of the bed with morning snuggle rights; Samantha is queen of the living room with couch snuggle rights. Most recent cutsie Pictures:

| | |
| --- | --- |
| | |
| Whiskey | Samantha |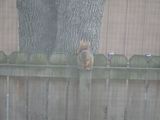 When I lived in my mobile home (now all happily sold), i used to dream of finding a solution by which I could let the cats out, but not worry about their safety -- from other cats as well as from cars, etc. To that end, with some help from some innovative companies and lots of friends, we put up a Cat Fence in the back yard, to keep the cats in. Its worked like a charm -- they have not gotten out even once. Unfortunately, they did decimate the mouse population in about 2 weeks, leaving them with nothing to chase. I'm happy to say that the chipmunks who live in the front yard continue to be safe. There is a squirrel who has figured out the cats can't get him, and he does seem to try to taunt them from the safety of nearby tree.



Picture of the scope of the fence.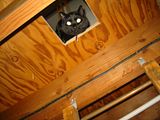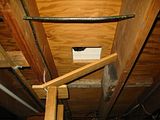 Also, having been in the house for a year, I finally bought a washer and dryer .. and started using the basement of the house! To that end, I created what I call a cat-chute -- also used as a laundry chute, from the master bedroom closet floor to the basement. It all started with Tae-Kwon-Do -- i needed to wash my uniform at least weekly, and that didn't jive with going to a laundromat, so there you have it. As a result of this, i've found that my basement is actually QUITE warm even without heat registers.. i think it radiates from upstairs through the floor -- and I'm hatching plans on how to use the space...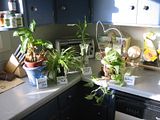 I'm now up to FOUR plants, and they're all surviving. Spider Plant, Kitchen Plant, Bathroom Plant, and LuckyBamboo. Bathroom Plant got repotted recently.. it was touch and go for a bit there.. then I figured out I needed to squish the soil down so that the roots felt snuggled, and its recovering now. Pretty soon, i'm gonna have to figure out how to get a hook in the ceiling so I can hang her. [Update: After taking the picture, I repotted spidey. I *think* she's going to be okay. It was a messy kitchen-sink operation.]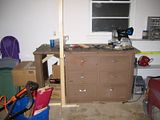 Another crazy project is -- i've always wanted to do what the folks at the Cat House did. To that end, i've started on a really tall scratching post, with the idea of building a true cat-walk system up near the ceiling of the first floor. The trick for me is to do it without destroying the house's resale value. I also want to make it mostly modular -- so that I can reconfigure it whenever I want. This continues to be a project in progress.

Musicwise: Been doing a lot more performing - with the two Cafe Unite shows, and then an occasional little thing here or there. I'm finding that I don't really like performing to the general public -- what I *do* like is playing good music with other competent musicians. My general plan for next year is to focus more on doing open mics, with some friends -- possibly learn some Jazz improv stuff or something. I do have plans to do one show -- "Redeeming the Holy Grail", basically a reenactment of the Monty Python movie, with a pro- and con- set of people critiquing the movie. The challenge: To find hidden spiritual meaning in each of the scenes. Heh.
Healthwise: Oh my god. Since I started doing martial arts... I think i've lost about 8 lbs so far; my pushup count went from 7 to 30 and is still going up. I'm looking forward to where this is going to take me.. i've never been this consistently proud of my body before. Its awesome! My crazy insane goal is: to become an XMA-style trickster -- [link to insane pictures]. In order to get there.. I need to work my way up to being able to do 300+ crunches/backbends, etc. It will take a few years, I think. For now, my plan is to stay in TKD for this year, minimum.
Girlwise: :] Sorry folks, nothing to see here, move along now.
Computer Stuff: I briefly started an interesting in mudding again, but its faded now. Lots of other cool projects going on -- like, there's a family history video project, in which I'm digitizing some of Mom's family photographs, and then videotaping a commentary on them, and then combining the two. I also acquired a collection of old LP's that I grew up with, and i've just started playing with digitizing those and doing scratch/click removal on them. The first one I did, naturally, was Belafonte's "Monkey" song. I might post a snippet to my blog sometime.
I do have some dream projects in mind.. things dealing with putting a camera on a tripod, hooked up to GPS and a laptop, and have it auto-take pictures of town that it hasn't taken before. Maybe next year break i'll do that.
Christmas Related: This year, I continue my tradition of helping with the community christmas dinner. This morning I helped peel and mash potatoes, and set up tables... check us out:



The Kitchen Scene.




The Dining Room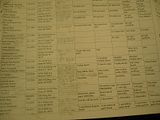 One of many sheets of businesses donating to the community dinner.

The real deal is tomorrow.. (christmas day) at about noon or so. I'm totally looking forward to it -- new place, bigger, and a lot more volunteers this year. I'm hoping several pictures will get taken.
Well, folks, that's about it! Perhaps this last little thing -- if you'd like to keep track of what I'm up to, but don't really want "yet another" place to go visit on the web, then try this: Download and install feedreader (or some other RSS-feed-reading-program), and then add a link to http://www.livejournal.com/users/sunnywiz/data/rss.xml -- then, your computer will let you know when I've updated. I personally use RSS to keep track of several news sites, including Slashdot/Science and several online comics that publish on an irregular basis. If you do visit, please post a comment so that i know you visited!
love,
Sunshine