So, like.. I'm on vacation. Today was my second day of not going to work. I
like
it!...
Yesterday, I woke up at 6, met a friend for breakfast... went home, slept till noon, met more friends for lunch, then worked on mom's videotape history for a while. I decided to go to TKD practise.. (whole story by itself)... came home, worked out some more (GOooooo MUSCLES!!!! GOoooo STRETCHING!!! GOoooooo Palgwe Iljhan!!), worked on more videotape stuff, and watched the beginning of HarryPotterAzkaban.
Today, I woke up at 6:30, met a friend for breakfast... and now I'm here, writing this up. At 2 today, i'm helping somebody fix their computer; tonight is recovery stuff night.
Mom's video project is going pretty well. I think i'm 10 minutes into the 50 minutes of video tape, currently at picture # 5 or 6? Video editing is such a painstaking ordeal.. ESPECIALLY when using substandard tools (like Ulead Video Studio 7). However, the price tag of >$200 for something decent.. while I have decided I'm willing to buy it... is unnecessary for this small a project.
I have crunchloads of pictures.. my trip to Legends, the Cat Shute, the Tkd Potluck party, and just some general pics. I guess i probably ought not post them all... I will post the Legends trip and the few good pictures from the other stuff, however.
That's about it. So, like, I'm TOTALLY on break, which means I'm very available during the day, so if anybody would like to get together... for lunch, coffee, etc -- i can _always_ use some people interaction. Or, if you need your lawn mowed... or some kind of help with some project... i'm up for that.
Oh. As I type this, Samantha has chosen to lay across the back of my neck. I took a picture.. uploading...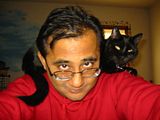 love,
Sunshine